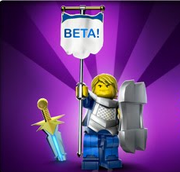 The LEGO Universe Beta Test was a short test of LEGO Universe before its release where players could test out the features of the game.
Announcement and Release Dates
The beta test for LEGO Universe was first announced at the 2010 Consumer Electronics Show, also known as CES. The first round of beta keys were emailed to non-alpha testers on March 10, 2010.
The original date of beta testing was set for February 25, only to be prolonged for unknown reasons. While the beta was rescheduled for release on February 27, it was once again prolonged.
The beta testing phase ended on September 26, 2010. The game started for Founders (those who pre-ordered) on October 8, and was released in stores on October 26. Beta testers received a special beta tester shirt in the live game.
Pre-Beta Stage
The game had already undergone an alpha testing phase. Alpha testers composed of LEGO Kids Inner Circle members, LUPs, LEGO employees and their family members, chosen visitors at CES 2010, and people who visited locations where the pods had landed. These people got to try out the game (based on a set schedule), and report bugs that they found, in order to prepare the game for the beta test phase.
Sign Ups

On February 3, 2010, the producer of LEGO Universe released a link to sign up for beta testing, but it did not guarantee that those who used the link would be chosen.
Since then, the sign up page was sent out to Newsletter subscribers, My LEGO Network users, and members of the LEGO Kids Inner Circle. On March 2, the beta sign up page was posted in the official LEGO Universe news section on the LEGO Universe website.
Sign ups ended on September 26, the same day the beta test ended.
Compatability
The alpha version of LEGO Universe only worked on Windows computers with 1 GB RAM, a hefty video card, and quite a bit of hard drive space. A Mac version was never available, although at the time the LEGO Universe team stated that they were looking into the matter. Some users were able to work around this incompatibility by using a Windows emulator - such as VMware - and even creating an actual port of the game, though a Windows emulator was still required to Patch the files.
A Mac version was released late into the beta testing phase, although a multitude of bugs made it almost unplayable at first. A Mac version was available at the Live 1 launch as well.
Declaration of Secrecy
The Declaration of Secrecy was a document created by LEGO in order to restrain alpha testers from posting pictures, videos, or posts about the LEGO Universe gameplay. This declaration remained throughout the closed beta period as well, with the same specifications as before.
Gallery