This part of
LEGO Universe
was available in the
Free To Play
version!

Launchpads are the means by which rockets are launched from world to world. As such, an assembled rocket is required to use one.
It is not required to use a rocket to travel to Starbase 3001, however, one becomes required to visit LUP worlds off of it. Club Station Alpha has a teleporter, although you may use a rocket once you arrive.
Launchpads are also non-existent within minigames, as most are set within the worlds themselves and are not considered a world despite their having a separate instance to the game world.
Launchpads
Venture Explorer
Click to show launchpads on Venture Explorer
Avant Gardens
Click to show Launchpads in Avant Gardens
This is a property launchpad used to transport players between the Launch Area and the Block Yard. This particular one is no longer used, as it was replaced by the one below it in the Power of the Nexus Force Update.
This launchpad is the one which currently transports players to the Block Yard. It is located closer to the Nimbus Station launchpad than its predecessor, but it still serves the same function.
This launchpad is also outdated. It originally rested far from the cliff in the launch area, as pictured below.
It was replaced by the below launchpad, which now rests on a hill, closer to the cliff. Sky Lane stands beside it. It transports players to Nimbus Station.
This launchpad takes players to Avant Grove. It rests behind the picnickers near Sofia Amalgam. It was added in the Crux Prime update in February 2011.
The final launchpad in Avant Gardens is the Return to the Venture Explorer launchpad, which takes players to the instance/world. It was added in the December 2010 update, and moved in the August 2011 "Power of the Nexus Force" update. It was originally behind the Nimbus Station launchpad.
It now resides near Brutus Speck, on a little hill in the area.
The launchpad that teleported players from the Maelstrom Mine to the Spider Queen Battle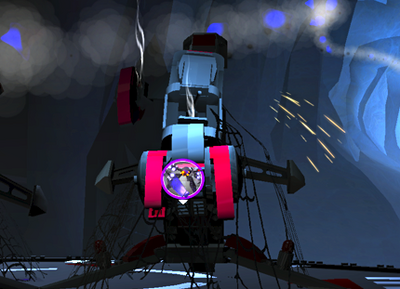 Forbidden Valley
Click to show Forbidden Valley launchpads
This is conceivably the first encountered launchpad within Forbidden Valley. It is located beside Ninja Tashi, and will return the player to Nimbus Station.
This launchpad appears in the Great Tree. It is aimed at Nimbus Station.
This is a property launchpad. It will send players to claim their fourth property and unlock rank four behaviors. Destination is Raven Bluff.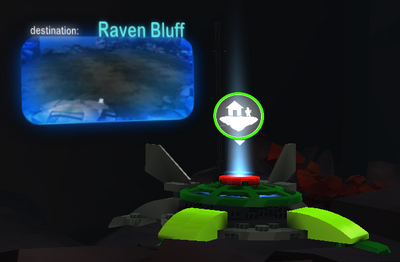 Beta Information
In alpha testing, launchpads could only be used by a single player at a time. Attempting to launch a rocket while another player was still blasting off would result in a pop-up, saying to wait until the launchpad was empty. Launchpads also had a different, larger design, with a red and white color scheme.
Trivia
Gallery
Community content is available under
CC-BY-SA
unless otherwise noted.