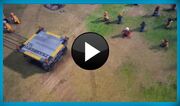 Mission 1
is the first mission of
The Great Minifig Mission
.
This mission is an altered version of the LEGO Universe trailer depicting the Battle of Nimbus Station, a castle siege, minifigs on a racetrack, pirates in Gnarled Forest, and ninjas in Forbidden Valley. The alterations include hidden codes written in the minifigure alphabet. You have to decode these and enter them in a box to complete the mission.
There are 6 known answers for the 6 different times shown in the trailer:
After inserting a correct answer players will not be able to re-enter it again. For each correct answer, players will be sending 20 more minifigs into the LEGO Universe world; a total of 120 minifigs can be sent into the LEGO Universe for this mission.
Mission Description
Watch the video of an epic battle between the minifigs and the evil forces that plague their lands. Find words, spelled out in minifig alphabet, hidden within the footage. The words could be hidden anywhere, so you need to look carefully. click on the link below to view the minifig alphabet translator.
B.R.I.C.K. Tip
Use the video control to view the footage frame by frame.
External Links
Gallery