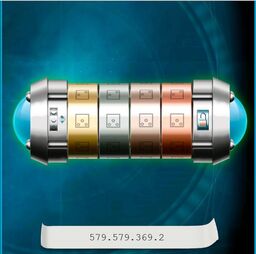 Mission 14 is the fourteenth mission of The Great Minifig Mission.
Players are given a capsule with multiple rotating segments that have letters of the minifigure alphabet written on them. Players are also given a slip of paper with four numbers written on it. Players must crack the number sequence's code and rotate the capsules segments to match, then press the unlock button. If done incorrectly, fluid will flow to opposite sides of the capsule and break it. If done correctly, the bio of Vanda Darkflame is revealed. The bio also contains a code written in minifig alphabet that must be placed into the code box to send minifigs into the LEGO Universe.
Mission Description
With the Baron now a prisoner inside The Maelstrom, Doc Overbuild, Duke Exeter and Hael Storm recruited his former assistant to create a Faction that would study the dark menace and hopefully learn how to defeat it. The Faction was known as Paradox and its mysterious leader - a ninja warrior - proved to be a formidable asset to the Nexus Force.
B.R.I.C.K. Tip
You don't realise it but you have already been contacted by the leader of the Paradox Faction. She is none other than the mysterious contact! Her true identity is a carefully guarded secret. To reveal it you must crack the code and unlock the capsule. Then there is one more step that must be completed...
Gallery
Community content is available under
CC-BY-SA
unless otherwise noted.