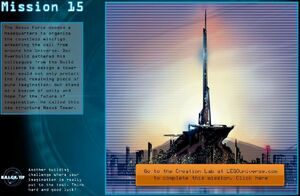 Mission 15 is the fifteenth mission of The Great Minifig Mission.
Like Mission 9, to complete Mission 15, players must upload a creation to the challenge 'Build Nexus Tower!'. When the creation is approved, players send 200 minifigures into the LEGO Universe. Players only send minifigs with their first approved creation; subsequent creations do not send minifigs.
Mission Description
The Nexus Force needed a headquarters to organize the countless minifigs answering the call from across the Universe. Doc Overbuild gathered his colleges from the Build Alliance to design a tower that would not only protect the last remaining piece of pure imagination, but stand as a beacon of unity and hope for the future of imagination. He called this new structure Nexus Tower.
B.R.I.C.K. Tip
Another building challenge where your imagination is really put to the test. Think hard and good luck!
Community content is available under
CC-BY-SA
unless otherwise noted.