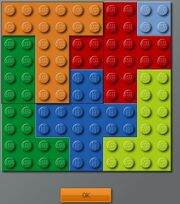 Mission 16 is the sixteenth mission of the Great Minifig Mission.
Players move and rotate colored bricks to completely cover a gray plate in under a minute. In order to complete the mission, none of the bricks may overlap. Once they are all in place, players must click the "OK" button. The plate will flip around to reveal a plaque describing the Assembly. The plaque contains a code which you will need to translate using the minifigure alphabet translator. If players correctly enter the code, minifigs will enter the LEGO Universe.
Mission Description
"Imagination is the living foundation and power of all that is possible and impossible in the universe."
- Doc Overbuild
B.R.I.C.K. Tip
Move the pieces into place before the time runs out. To rotate pieces, position your cursor at the edge of the shape and turn it.
Gallery
Community content is available under
CC-BY-SA
unless otherwise noted.