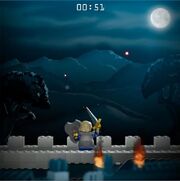 Mission 17 is the seventeenth mission of The Great Minifig Mission.
Players play as Duke Exeter atop a castle wall and must protect a village under Stromling attack. Players must slide Duke across the screen and use his shield to block the fireballs being thrown by the unseen Stromlings. If the village is hit by five fireballs, the mission is failed. If players last for a minute, the scene fades and a plaque describing the Sentinels appears. The plaque contains a code which you will need to translate using the minifigure alphabet translator. Players must enter the code to send minifigs into the LEGO Universe.
Mission Description
"Believe in your strength without abusing it. Acknowledge strength in others without fearing it."
- Duke Exeter
B.R.I.C.K. Tip
Help Duke protect the village from the Stromling attack using his shield! Five fires and the battle is lost.
Gallery
Community content is available under
CC-BY-SA
unless otherwise noted.