This page needs improvement. Please improve this article to make the wiki a better place!

Reason: Somewhat outdated info, needs a re-write and added info on Space Ranger

"If you're gonna wear Sentinel blue, you've gotta earn the honor!"- Melodie Foxtrot
The Sentinels are one of the four factions of the Nexus Force. Led by the courageous Duke Exeter, they are focused around battle, chivalry and armor. Their main color is blue.
The brave and bold warriors of the Sentinels protect those around them through the strength of their armor and conviction. Specialty Kits in the Sentinel Faction are the Knight, Samurai, and Space Ranger. Knights wield a sword and shield and their skills grant them a whirlwind attack that allows them to spin around and damage all nearby enemies. They gain enhanced armor for their team and they cannot be interrupted during combat. They can charge at enemies and knock them into the air and can block certain enemy attacks. Samurai wear special armor and battle with a katana and a bow that shoots flaming arrows. The Samurai's skills are similar to the Knight's; they can avoid being interrupted during combat, gain enhanced Armor for their team, and block enemy attacks. Space Rangers have massive area of effect abilities and splash damage, making them more effective against swarms of weaker enemies. In addition, they benefit from reduced damage after their armor has been reduced to zero as well as the ability to block large amounts of damage. Overall, Sentinels excel at smashing enemies up close and using powerful armor and weapons.
Quote from Pre-Order Pack
"The fearless warrior knight Duke Exeter leads this close-knit band of heroes, who are in their element in the thick of a fight. Armed with inventive weaponry, they are renowned for using their wits, creative fighting moves and team skills to battle those who wish to destroy imagination."
Known Members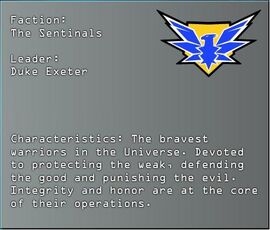 Former Members
These members of Sentinel Faction were either cut from the game or later moved to another faction.
Faction Specialties
Sentinel-only items
Race Car Parts
Rocket Parts
Trivia
Gallery
Community content is available under
CC-BY-SA
unless otherwise noted.