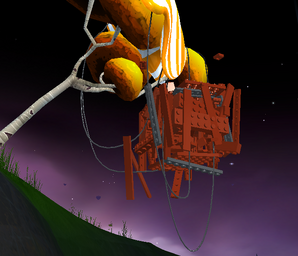 You may be looking for Smashed!.
Smashables are objects scattered across the LEGO Universe that can be smashed by players. Smashed items usually provide a small number of coins, Power-ups, possibly a Faction Token and/or item, and maybe a brick or two. Most smashables can be smashed by any attack or weapon; however, some can only be smashed by specific weapons (Such as the Maelstrom Hammer and Spinjitzu Staff).
Normal Smashables
Normal smashables can be found on nearly every world within the game. Their drop may vary depending on the world, however most of the time, smashables drop bricks and 5-10 coins.
Hazardous Smashables
Some smashables might cause damage.
Quick Build Smashables
Some smashables reveal a hidden quick build once smashed.
Gallery